The author of this list provides a disclaimer:
"I won't call this a top five, because this is hardly an issue for ranking, but: in light of the 8-year-old in Arizona being charged with double homicide, let's take a look at five of the most prominent cases of children who have been convicted of killing others."
5. "Nevada-tan": This is the nickname for the 11-year-old Japanese elementary school girl who murdered one of her 12-year-old classmates during lunch by slitting her throat. Her identity is being hidden because she is a minor. This case shocked Japan in 2004. According to Japanese law, she was too young to bear criminal responsibility, but she has been institutionalized for the 4 years since the crime. Prior to the crime, she had a web page filled with disturbing imagery of sexual violence. She became something of an internet meme in Japan, and is referred to as "Nevada-tan" because in a school picture of hers, she is wearing a shirt that says "Nevada" ("tan" is a kind of immature, cute honorific).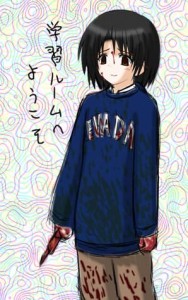 4. "Sakakibara Seito": a new serial killer seemed at work in Japan when a 10-year-old girl and 11-year-old boy were killed in May 1997. The murderer gruesomely placed the boy victim's severed head at his elementary school gates where it was then spotted by students as they arrived in the morning. The murderer left a taunting note in the boy's mouth, referring to himself as "Sakakibara," and sent several more threatening notes to police. Three girls were attacked, but survived. A massive manhunt went on. People were shocked when the killer turned out to be a 14-year-old middle-school boy (real name hidden). Some still believe in the boy's innocence.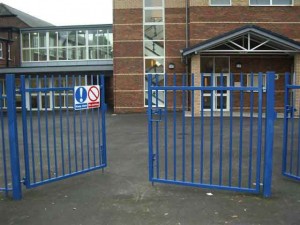 3. Mary Bell: At the ages of 10 and 11, she killed a 3-year-old and a 4-year-old boy. Prior to the murders, Mary's mother had tried to kill Mary several times, and Mary had been sexually abused by her mother's clients (her mother was a prostitute). After having been institutionalized for a number of years, Mary was released, with her identity kept hidden. She has since become a mother, and has not had any trouble with the law.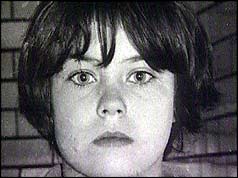 2. Jon Venables and Robert Thompson: These two 10-year-old boys abducted, tormented, and killed 2-year-old James Bulger. Unsurprisingly, both boys were from homes with parents with psychiatric problems and were badly physically, and possibly sexually, abused. They spent 8 years in institutions for juvenile delinquents. As their identities were revealed, British tabloids have tried to follow their every move, and they have been the subjects of many calls for continued incarceration.
1. Mitchell Johnson and Andrew Golden: This 13-year-old and 10-year-old perpetrated the "Jonesboro [Arkansas] Massacre." They killed 4 girls and one teacher, and injured 10 during a school shooting. They had stockpiled weapons, food, and camping equipment in preparation for the siege and their escape. Now out of prison, they are legally allowed to purchase guns.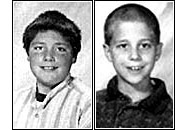 Comments
comments