Cynthia writes in:
As we approach Mother's Day and think about what gifts to give, we need also to turn our attention to the real gift that she (with some help from our dad) gave us, not just life but the actual vessel that contains it.
I saw a photo of myself recently. It was an outtake featuring  my backside, not the most flattering of poses, but I was struck by the fact that I did not see "me," I saw my MOM. Now to be fair, my mom and I have nice bodies by most standards.  In fact, growing up, I always thought that my mom's body was pretty. It was very much like the classic Greek statues . . . smaller breasts, a little thicker in the thighs and butt but very soft and feminine lines, but all I ever heard her say was that she needed to lose weight and that she was never happy with  her body. She dieted constantly: all the fad diets, half starving then binging and spurts of  numerous exercise resolutions over the years. She still does not love her body.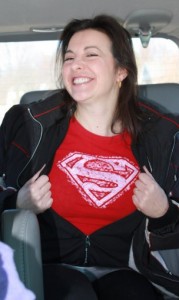 When I sent Ernie the information on the "EXPOSED" body project for E-Verse, he liked it a lot. It has a wonderful, positive, and brave message. He asked me to write this post since a post on "body image" might seem weird coming from a man, and I can see his point.  However, although we think of body image problems as relating largely to women, we all know that it is not gender exclusive by any means. In his poem, "A Thousand Kisses Deep," Leonard Cohen aptly conveyed this when he called his own body a "second-hand physique." Everything that I write can fully apply to a man. Some men have joined the "EXPOSED" body project too. Also we as women are really doing a disservice to our male partners to think that they could be so shallow that they can only love or desire us if we are physically "acceptable." A dear friend of mine explained that, "a man who does not love the body his wife has become does not deserve her. "
I will be turning 42 in a few days. I have given birth to and nursed children of my own. Age is settling me into that same body that my mom has, and I have a choice to make. Do I accept that I have this classic body type that was adored for centuries as a beautiful feminine form, this warm and capable flesh, the one that my husband still desires, the one that my children hug and touch with unconditional love and acceptance, or do I learn to despise it and abuse it with diets and unrealistic exercise regimes because it does not look like the impossibly surgically and photoshopped images that I see in the popular media of today. Even models from the late 70's that still looked like reasonably REAL women still caused my mom to despair over not measuring up.
I do believe in reasonable diet and exercise. I consider it an investment in my health as I age rather than aesthetics. I accept that is unlikely for me to once again look like I did at twenty. It's okay if I don't have that "hot body" ever again, but I will still have a beautiful one and THAT is the message that I want my kids to hear.
The "EXPOSED" body project
Essentially you take a photo of your torso and post it online, but instead of labeling all the ways in which you don't measure up, you list all the positive things that you can say about your body, your beautiful and HUMAN body.
Embracing Imperfection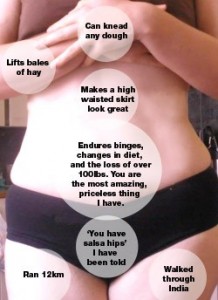 "Yes. I am not perfect. However, I have come SO far in loving who I am, shedding 100 lbs, and recovering from an emotionally draining relationship where what you see was not good enough. It may not be perfect, but I am OK with that." – Michelle, 26, Freemantle Australia, Eatingjourney.com
"I went right upstairs took off my clothes and took the picture. It brought tears to my eyes when I looked at the picture. I anticipated hatred and dread. What I felt when I looked at the picture is, 'That is not too bad. Why do you feel so bad about yourself?'" – Heather, 37, Gloucester, VA, BlogtoLose.com
"It's taken a lot of tears and lots of practice to get to the point where I love my body. I'm still working on it. Some days, I don't do as well as others. You don't have to look like a model or even be thin to love your body. Think of all the things it can do and how it moves and feels. It's your body. It is a beautiful thing." – Mary, 23,  Memphis, TN, AMerryLife.com
Here is a link to the woman who started the EXPOSED project and why it came about
In the true E-Verse spirit, here's a top five list (taken directly from  http://www.bodyimageprogram.org/)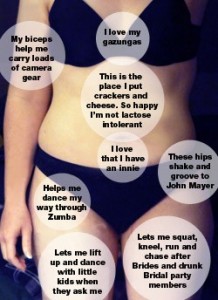 "The Top 5 Things You Can Do Now to Promote Positive Body Image"
5. Choose one friend or family member and discuss one thing you like about yourselves.
4. Keep a journal of all the good things your body allows you to do (e.g., sleep well and wake up rested, play tennis, etc.).
3. Pick one friend to make a pact with to avoid negative body talk. When you catch your friend talking negatively about their body, remind them of the pact.
2. Make a pledge to end complaints about your body, such as "I'm so flat-chested" or "I hate my legs." When you catch yourself doing this, make a correction by saying something positive about that body part, such as, "I'm so glad my legs got me through soccer practice today."
1. The next time someone gives you a compliment, rather than objecting ("No, I'm so fat"), practice taking a deep breath and saying "thank you"
Thanks, Cynthia!

Comments
comments