We have curved yellow fruit instead.
Or how about long yellow things?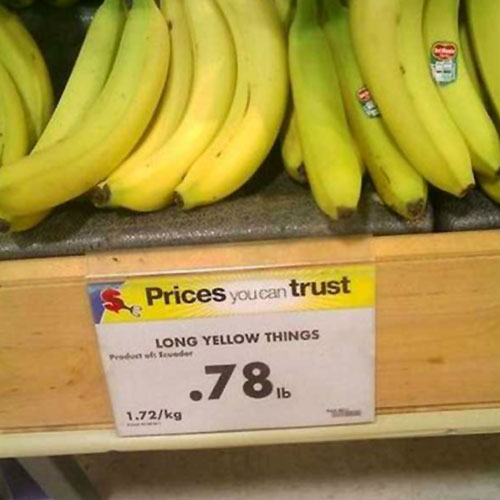 Finally, we do have some BONELESS bananas [I hope so! – E] . . . a wonderful dessert after a meal of seedless chicken and fat free broccoli.
I got the idea for this post after reading the ingredients in a can of beans. Ascorbic acid (vitamin C) used to be listed as  preservative but now is marketed as an antioxident. Acids such as citric acid and ascorbic acid  inhibit phenolase by making the pH uncomfortably low for the enzyme which preserves the food by slowing down oxidation. Many antioxidents are in fact good old fashioned preservatives with a new name, but which one to do you want to see on your food label? While it is refreshing to have truth in marketing, are they really selling you anything new?
Ingredients:
Black Beans, Water, Salt, Antioxidant: Ascorbic Acid. Gluten free.
Fun music bit: Chiquita Banana jingle was so catchy and likable that someone made it into a whole song in the 40's
And of course . . .
Yes, we have no bananas (Louis Prima version)

Comments
comments