1. CASH FOR GOLD

- Ernest Hilbert reads \"CASH FOR GOLD,\" a poem that appeared in the Boston Review.
Before you dashed with me through
Fish-scale pours of tropical storm
In the falling down city I felt
Too long like a king of an unsettled
And marshy land, but dried in the sad
Victorian room by the sea I was better
For a while, where pink bouquet
Wallpaper shed from damp walls
Like gluey shadows in the corners
And the gold-framed painting
Over the rolled-in mattress
Was a nervous antique rash
Of silver moonlight and drenched sand.
I dreamed slowly on my side
As the restless squall billowed
The white gauze curtains.
They danced and beat all night.
In the morning, the rain went on
And a seagull perched like a statue
On the next roof. We heard
Someone beyond the wall
Quarrel about money
And heard another
In a car who laughed and whooped
About a new house and drove off.
In the noisy diner I wonder
Why we never talk about money
Until it's gone. Is it because something's
Wrong with us? Something's wrong
With us. I always knew it. I still
Love you. And look, the lights
Are turning red down the rainy avenue.
Click here to read online features of the new issue of the Boston Review.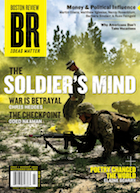 Comments
comments