5. Emily Blunt: Her chin is asymmetrical, with the cleft off-center and one side pointier than the other. Looks to me like they "fix" it in may photos of her with Photoshop, so it's more obvious in movies.
4. Cindy Crawford: The mole on the left side of her face ends up making her lips a bit different on each side. But it's her signature feature.
3. Julia Ormond: Early in her career, her nose was very crooked. We think she's had it straightened.
2. Edie Falco: The angles of her jawline are different on each side, which also makes her chin quite asymmetrical
1. Shannon Dougherty: People get more asymmetrical as they age, so it's cheating to pick a picture when they're older. Here's a picture of her when she was in her 20s, and you can see her eyes are extremely asymmetrical, with one a good bit lower than the other on her face, and the shapes slightly different. The angles of her jawbone are also pretty different on one side compared to the other, making her cheekbones pretty different too.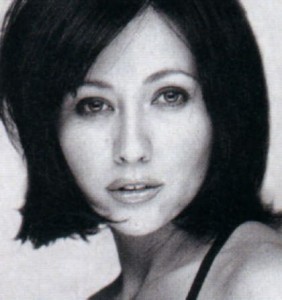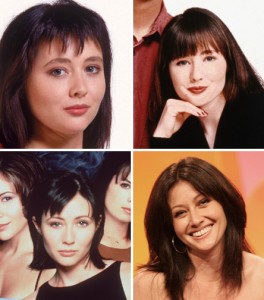 Extra: Paris Hilton. Her left eye is almost always more closed than her right eye.
Extra extra: Stephen Fry, the most asymmetrical face ever? Nobody ever claimed he was beautiful, but isn't his face interesting?
Actually, everyone's face is pretty asymmetrical, even if you don't notice it. The way you can tell is by taking the right or left half of your face, then use photoshop to copy and flip it so the left half is now actually a mirror copy of the right half. You'll see you look quite different.

Comments
comments